Legal Transcription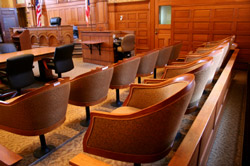 Terescription provides outsourced legal transcription services. Our transcriptionists are US based and are required to sign confidentiality agreements. This means you can be assured that your information will remain confidential.
Legal Transcription Services
Do you need accurate, timely and secure legal transcriptions? Transcription's legal transcription services include:
Transcribe Arbitrations
Mediation
Brief Transcripts
Discovery Interview Transcription
Interrogatories Transcripts
Transcribe Depositions
Meeting Transcription
Teleconference Transcripts
Public Hearings Transcribed
Legal Pleadings Transcripts
Surveillance and Investigative Report Transcription
Recorded Statements Transcribed
Our transcriptionists are US based and are required to sign confidentiality agreements. You can be assured that your work will remain confidential. Our automated workflow is secured with 128 bit encryption. Your legal transcript will be delivered by secure download.
Encoding, transcribing and logging video files are our specialty. With our partner, Teresis Media Management, Inc, we can digitally encode and compress your footage to any of the popular video formats, such as Windows Media Video, QuickTime, MPEG-1, MPEG-2, or MPEG-4. The video can be played back by anyone with a PC and can be streamed over LANs, intranets or the Internet. We can also transcribe your audio files.
Our transcriptionists will log and transcribe your audio or video content with timecode or duration. All SMPTE time codes in our transcripts are hyperlinked to the video media, are printed with headers and page numbers, and exportable to Microsoft Word. You will be able to quickly search and find information to make your case.
Transcripts are 99% accurate. Select your delivery turn-around time (TAT) option of 24 hours, 36 hours, 48 hours, and 72 hours. Price is based on TAT and on the number of characters transcribed.